Speed self Hair dye
- Product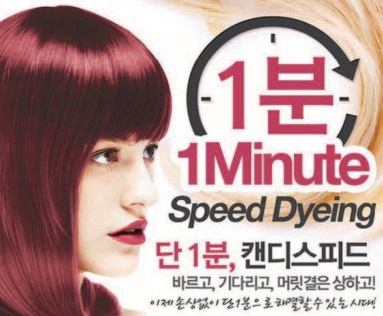 Candy speed 1-minute hair color is not a special dye.
However, the quality is so special. As soon as you apply color cream to your hair, it gives a mild and soft feeling. Dyeing time is fast. There is no damage and no scalp irritation on the hair.

1 Minute Hair Color Cream is mild and not irritating because it doe
Description of the Product
Candy speed 1-minute hair color is not a special dye.
However, the quality is so special. As soon as you apply color cream to your hair, it gives a mild and soft feeling. Dyeing time is fast. There is no damage and no scalp irritation on the hair.

1 Minute Hair Color Cream is mild and not irritating because it doesn't contain ammonia. It also offers a refreshing scent during and after application. Natural oils and vegetable ingredients make hair smooth and glossy after application.

1 Minute Hair Color Cream dyes hair in a natural color just 1 minute after application over the entire hair area by making pigments quickly penetrate into the cortex inside cuticles and evenly saturate on the basis of patented technology.

Product [ Candy Speed 1 Minute Hair Color Cream ]
Agent 1, 500g Indicated ingredients

[Features]
1 minute hair color cream makes hair dyed extremely fast and enhances treatment function after dyeing to minimize hair damage. It's a new concept of salt. It does not use ammonia for a gentle, non-stimulating sensation and a pleasant scent after application. Oil and vegetable ingredients make hair soft and shiny after dyeing.

Safety
⦁ Minimize contact time between carbonized and hair to minimize hair damage and lower PH than normal carbonized.
⦁ No ammonia, no smell, and mild and smooth with natural plant extracts including aloe vera leaf juice.
⦁ This product minimizes allergic reactions by combining components that have a stimulus relief and prevention effect.

Inactivity
⦁ Based on patented (hair dye composition (No. 10-0633439) technology, dye is quickly penetrated into the cuticle layer as a motif. As a result, the dye settles evenly, and the hair can be naturally dyed in the desired color one to two minutes after application.

Persistence
⦁ After dyeing, keep glossy hair free from discoloration.

Treatment
⦁ Polymeric polymer, treatment function by natural oil and plant extract to dye hair soft and smooth.

Convenience
⦁ Mix 1 and 2 agents at a 1:1 ratio and use them as a comb for convenience.

Keywords
self hair dye, 1 minute Hair Dyes, quick Hair Dyes, Haircare products, Associated Products, Other Quasi-Drugs, colorant, hair dye, candy speed, Korean Beauty Product, hair care products, hair color, shampoo, hair care, hair color, hair products, hair treatment, temporary hair color, hair color ideas, best hair dye, conditioner, hair conditioner, best hair color, shampoo and conditioner, best hair dye brand, black hair dye, wholesale hair products, dark hair dye colors, top hair dye, beauty products, organic hair care, hair dye shop, dry hair products, hair color options, professional hair styling products, hair color kits, hair dye prices, haircare shop, ash hair color, hair colors for long hair, hair moisturizer
Price of the Product
Price not indicated
Characteristics of the Product
Certification

ISO9001, ISO14001, ISO45001

Origin

Republic of Korea
Technical Details
[ Safety ]
- 1-minute hair color cream minimizes the contact time of the hair dye and hair as well as hair damage and reduces the factors causing hair damage by a lower pH than other hair dyes.
- It has no irritating scent because it contains no ammonia and the natural plant's extracts, including aloe vera leaf juice, give a mild and soft feeling.
- The mixture of ingredients relieving and preventing irritation minimizes allergic reaction.

[ Rapid Action ]
- It is a natural color 1~2 minutes after application over the entire hair area by making pigments quickly penetrate into the cortex inside cuticles and evenly saturate on the basis of a patented technology (hair color composition, Patent No. 10-0633439)

[ Durability ]
- Keep glossy hair without loss of color after hair dyeing.

[ Treatment ]
- The treatment function using polymers, natural oils, and vegetable extracts makes hair smooth and shiny after hair dyeing.

[ Convenience ]
- Mix Agent 1 and Agent 2 at the ratio of one to one and apply just like combing your hair. It is easy to apply. The hair color is changed by mixing the agent 1 including 1N, 3N, 4N, 5N or 5RN with Agent 2 by 70%, and 8N by 30%. For a darker color, reduce the amount of 8N. For light color, increase the amount of 8N.


Category of the Product
I want to get more details about the product
Company catalogues - Candyspeedkorea Co..Ltd.