ELECTRIC OIL FREE SCREW AIR COMPRESSORS AB SERIES OIL FREE SCREW AIR COMPRESSORS of ELGi Equipments Limited
Product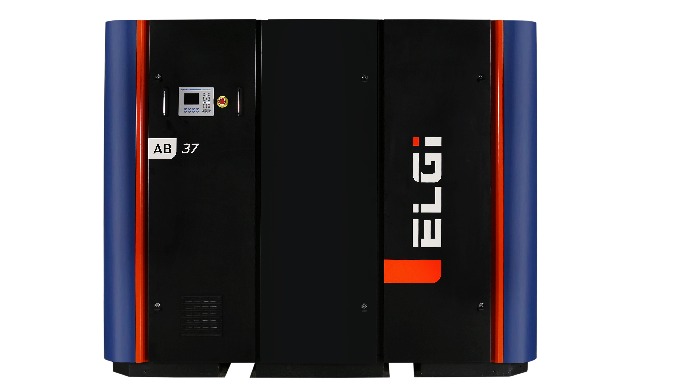 Description of the Product
Link to Brochure:
https://www.elgi.com/in/wp-content/uploads/2020/03/ELGI_AB-Series-Brochure_Read-Mode.pdf​
WHY ELGi's AB SERIES?

Class-0 certified as per ISO8573-2010
Our Oil Free Series have consistent oil-free air meeting ISO8573-1 class 0 oil standards. Food grade material of air contacts metal surface inside the compressor ensures consistent oil-free air without metal debris. Pipes have special e-coating which ensures consistently clean and oil-free air along with optimized rotor clearances which ensures consistent air delivery
Viable Microbiological content complying to ISO8573-7:2003
These compressors discharge air with no microbiological containment, complying with ISO 8573-7 standard.
Pure Water quality complying to IS:10500-2012
To maintain the quality of water ELGi machines have a closed loop water circuit which eliminates the need for a RO system. This reduces power & maintenance cost for our customers and ensures pure water quality complying to IS:10500-2012
Corrosion resistant SS rotors
ELGi machines use FDA approved stainless steel with proprietary coating which eliminates any chances of corrosion.
Compact, air cooled package
The cooling system with fans and larger cooling surface area enhances the cooling of hot air. The fan motor uses significantly low power. The integrated fan-motor assembly maintains low temperature thereby increasing life of the motor.
Lower maintenance cost
The efficient rotors with best in class performance, single-stage operation, low operation speed and application-oriented design, lowers overall maintenance.
Price of the Product
Price on request
Characteristics of the Product
Type

ELECTRIC OIL FREE SCREW AIR COMPRESSORS

Model

AB Series
Category of the Product